Every great marketer knows that marketing is a vast field that continuously evolves. With numerous technology and consumer trends that top each day, a brand should be able to find new ways to engage with and widen their community.
TikTok's Ads Manager has proven to be a front runner as a brand advertising platform as hundreds of millions of users count on TikTok to spread their content, boost their advertising potential, and help their campaigns to thrive.
Why Ads Manager?
Reach your audience worldwide. With TikTok being active in more than 150 countries, you'll be able to easily reach your market and more.
Effective engagement. A lot of available entertaining and artistic formats that can inspire global participation thus leading to higher engagement.
Accurate Targeting. Specific audience filters are available to connect with prospective business clients.
Transparent tracking. Customizable reports and easy to download data. Brands can monitor ad's performance to know which works for them.
Ad creative formats & tools. Innovative, visionary, and easy to understand on platform tools – different ad formats and templates, to transform brand assets.
Branded Effects
Set the stage for creative expression with Branded Effects.  Tap into the co-creator effect and let your audience participate in your campaigns. Have them change hair colors, play with brand stickers, follow dance moves, use their bodies to animate elements – the possibilities are almost endless! Branded Effects take advertising beyond the traditional and the standard. They give users the option to become immersed and engage with your brand to their full potential.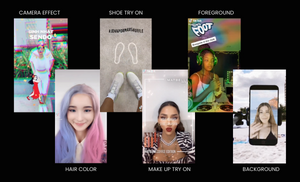 Branded effects can even be more powerful when incorporated in a Branded Hashtag Challenge.
Branded hashtag challenge
Do not be just part of a trend, start a trend! 
Hashtags are used to help people find interesting contents to join the conversation and build communities. In marketing, it increases a brand's visibility which can lead to virality. Hashtags can even be more boundless when combined with challenges. These trending "dares" prompt users to create their own content together with the brand.  This advertising format forms part of TikTok's landmark user-generated content (UGC) approach and allows users to collaborate and interact with three advertising placements. 
Standard video advertising shows up in the in-feed placement, directing users to take part in the challenge. The Discover page also includes a featured banner, driving traffic to the Hashtag Challenge page. The heart of the challenge, this page features the third advertising placement and brings together submitted videos from all around the world. This approach boosts awareness, drives higher engagement, and builds bigger communities. 
In-feed video ad
In-feed ads appear on a user's For YouPage of "FYP". Brands that plan to launch into the digital arena may dip their toes in this format. It is usually described as the most common ad and easiest to create. For brands that would want to blend to the native content on the platform or want to showcase their product, then this is a good place to start. 
While it's best to keep ads around 15 seconds or less, in-feed ads can last up to 60 seconds in duration. Brands can also play with sound and retain the same user style as organic posts, giving them a native vibe.
This type of ad can be accessed through TikTok's Ad Manager and can be applied to a range of objectives. These ads come with clickable call-to-action buttons that users can use to navigate to landing pages, download an app, or visit your TikTok business account.
TopView
TopView gives brands the edge they're looking for by appearing at the head of the For You feed when users first open the app. These videos, which can last up to 60 seconds, give viewers the option for a quality viewing experience without other conflicting content getting in the way.
TopView helps brands boost their awareness, as its design and format allow for a vast reach and interaction. To get the most out of this TikTok advertising method, brands are encouraged to use engaging videos that leaves the best impact on their viewers.
Brand takeover
This format includes full-screen, high-impact advertising that places itself front and centre of the user's screen. Designed with far-reaching impact in mind, this advertising method guarantees vast reach and outstanding performance. It renders the entire screen clickable, so users will be able to navigate to your website, landing page, or business account with ease. They're short and sweet, either with 3-second images or 3-5-second videos.
Contact us
Kick off your TikTok advertising experience with us.